TRAVIS BODY & TRAILER
Since 1989, Travis Body & Trailer, Inc. has built more than 15,000 trailers. Over this time their reputation for quality has resulted in a rapidly growing population of repeat customers. With manufacturing centralized in one facility and with their well-trained, loyal production staff, their customers know they're driving out with the best-constructed, best-value trailer available, bar none.
Based in Houston, Texas, Travis holds true to age old, proven values. They take pride in everything they build. They believe their word and handshake to be their most valuable assets.
They are financially strong, stable and will be around for their customers when they're ready for their next trailer. They have not forgotten what it was like in their early days. They know their success rests in relationships. They have not—and will not lose—that critical focus.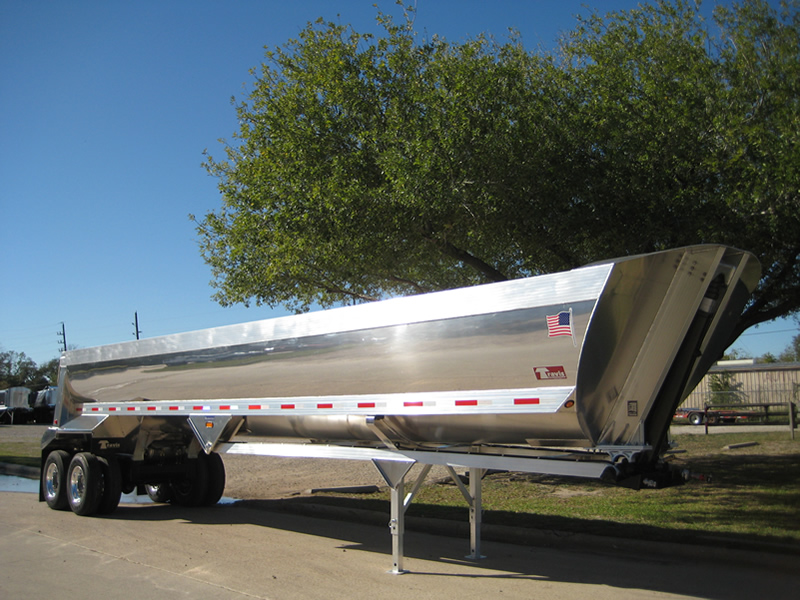 End Dumps
With standard equipment, CAT scale weight is an incredible 8,892 lbs.
Seamless body is structurally stronger and more cosmetically appealing.
Load releases at lower dump angle due to half round shape.
Rounded body centers load inside trailer, reducing chance of turnover that may be caused by loading on one side in a box trailer.
External hoist eliminates internal doghouse, reducing chance of sticking in nose.
Sloped nose and smooth sides increase aerodynamic efficiency; reducing fuel cost.
---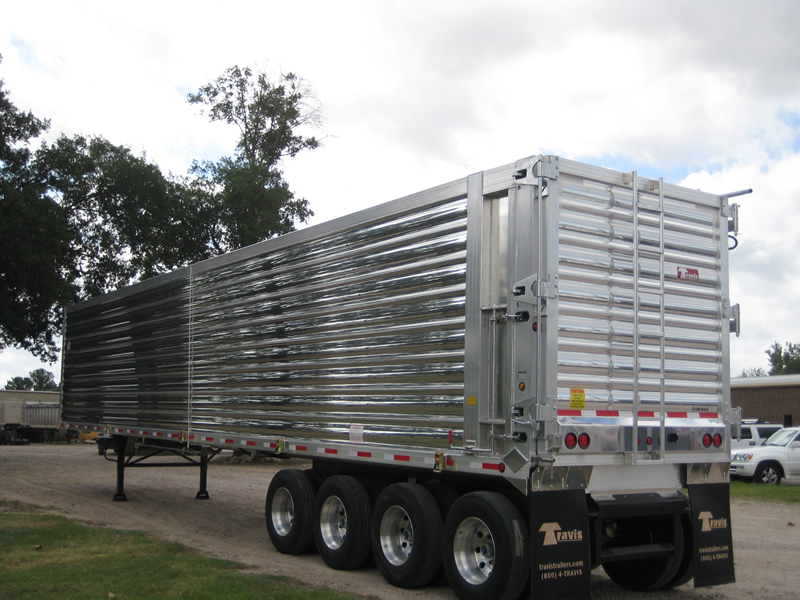 Transfer Trailer
The Trailer is built with 6061-T6 Aluminum Extruded Panels that run Horizontal to the Trailer and are much stronger than Aluminum Sheet.
The WAVE® Trailer uses the 6" tall .500" thick Extruded Top Rail, the same large front and rear posts as the other Trash Trailers in the Travis lineup.
The Tipper Trailer is standard with the Top Hinge Air Tailgate with the tailgate control mounted on the Driver's side of the Nose for easy access.
Heavy Duty Steel Sub Frame is standard on the Live Floor Trailers but an Aluminum Sub Frame can be specified.
---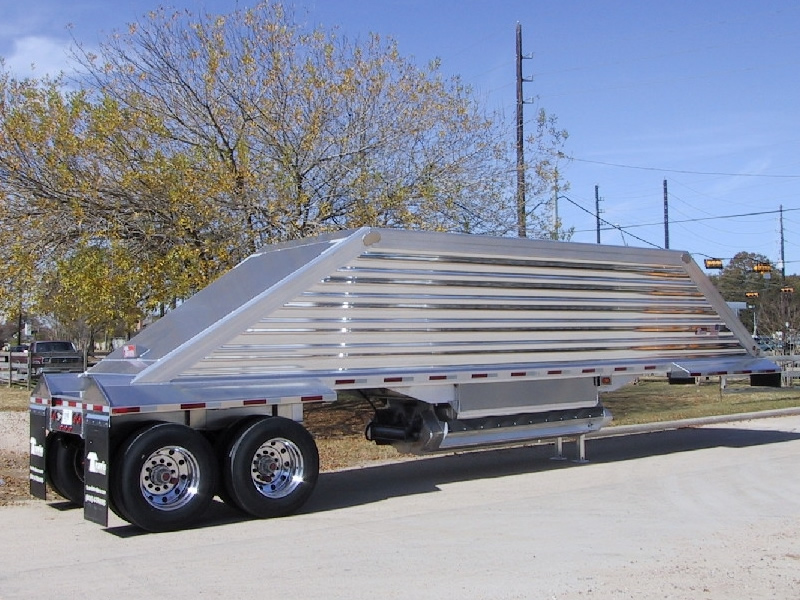 Bottom Dump
The Travis® aluminum bottom dump weighs approximately 2 tons less than most competitors steel trailers. This weight savings will increase your payloads and profits by up to 10% or more.
Loaded with standard features, including front and rear fenders, aluminum sub-frame, aluminum shed/slope plates, infinitely adjustable electric valve, sloped, aerodynamic hopper sides, and standard payload of 24 cubic yards.
Includes steps and safety handrails on the front shedder plate.
The hopper opening is 19 feet at the top and the beefy aluminum gate is a generous 106″ by 50″.
---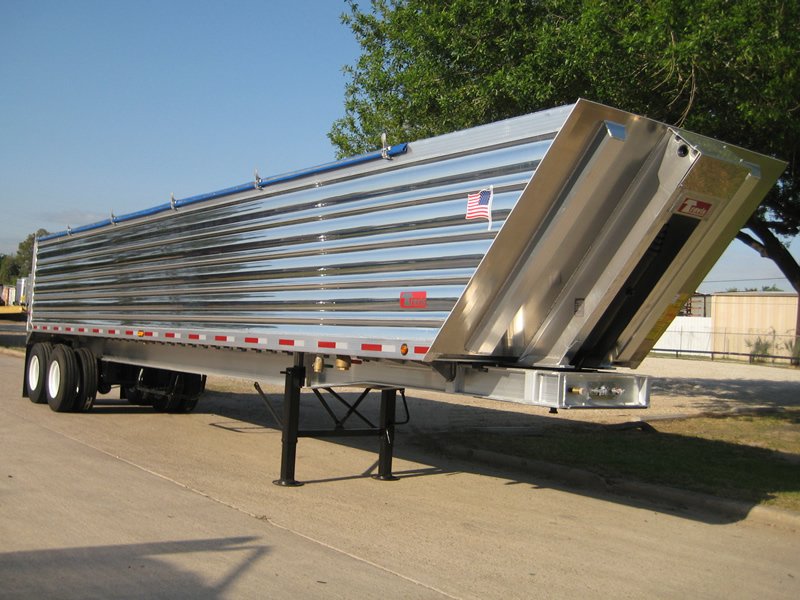 Rendering Trailer
The standard Rendering Trailer is 35ft. to 42ft. in length, straight 96in. wide body and axles, 60in. tall sides for hauling both the meat products and in the case of Chickens and Turkeys the feathers too
The standard Rendering Trailer often requires Ball Valves in the floor and sometimes in the Tailgate to remove the excess water from the trailer before transportation of the product.
The standard side height for Rendering Trailers is 60in. tall sides but the side height can be adjusted up to as high as the customer requires.
---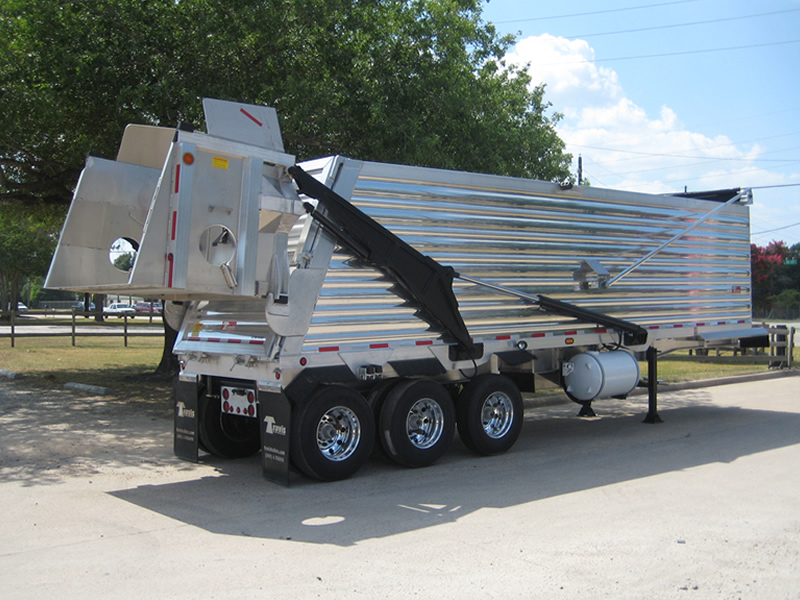 Tote Dumper
The Travis® Tote Dumper has been in production for years, serving the rendering and grease industries
Smooth-side, dual-wall, all-aluminum body and full aluminum frame
All-aluminum bucket, with 4000 lb lifting capacity, dumps 18′ into trailer
Wireless remote to operate bucket
Bucket accepts an industry standard waste container
Securement hooks for forklift and waste container